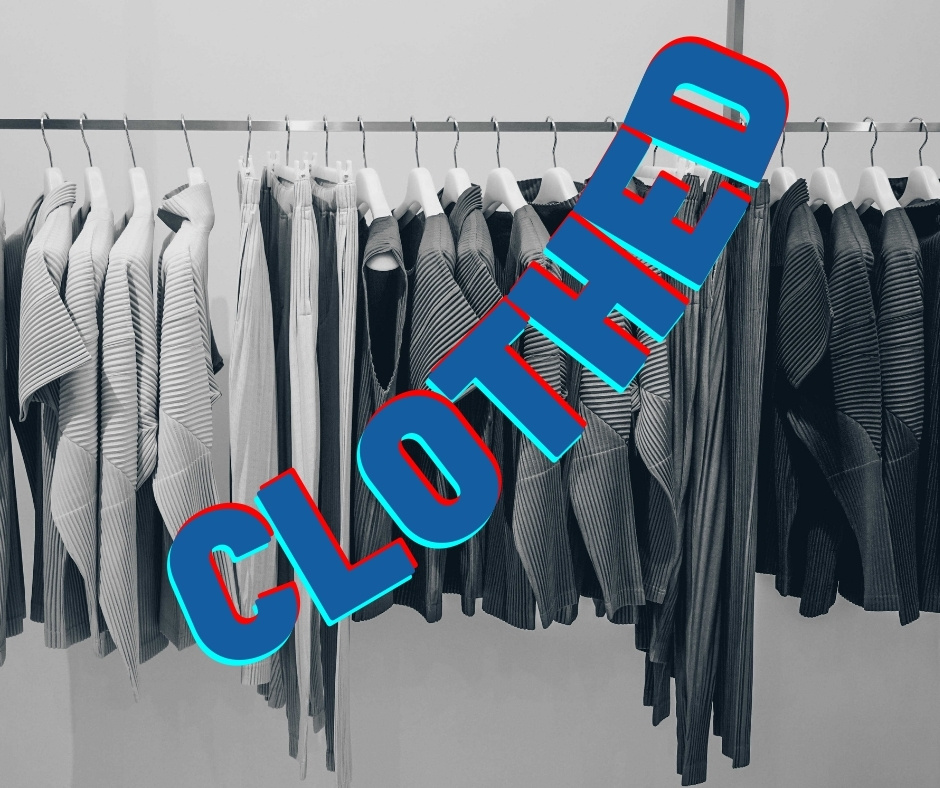 Clothed
It is always a busy day on October 31st in our household. Part of me loves the chaos of celebrating a birthday that coincides with Halloween, it is full of fun and copious amounts of sweets. However, it can also be draining because the day almost has too much fun and copious amounts of sweets. I know my children love it. What could be better than a day where you get to dress up in a costume, knock on neighborhood doors, and get rewarded with sugary goodness? Add cake and presents, making for one of the most fantastic days of the year. It is fascinating watching my children dress up; they dream of putting on their costumes and love to be someone else for a few minutes. Their imaginations transform them into their new personas. One magically morphs into Spider-Man, including web slingers and jumping ability; another becomes the Hulk with smashing success. It becomes almost disrespectful to refer to them in their given names. For a few hours, they are not my children, they are superheroes, and the world needs saving from an abundant amount of candy, and there aren't enough people to consume it.
Being a follower of Christ and living in the world is not an easy task. Everything we do appears to be at odds with pressures to conform and perform in a culture and society that often rejects if not attacks those who live out redeemed lives. Numerous passages instruct us to "clothe ourselves" or "put on" garments and attires while we live in the world. Part of this is how we refer to ourselves, as we see in the letter to the church in Colossae.
Colossians 3:8-12
"But now you must also rid yourselves of all such things as these: anger, rage, malice, slander, and filthy language from your lips. 9 Do not lie to each other, since you have taken off your old self with its practices 10 and have put on the new self, which is being renewed in knowledge in the image of its Creator. 11 Here there is no Gentile or Jew, circumcised or uncircumcised, barbarian, Scythian, slave or free, but Christ is all, and is in all. 12 Therefore, as God's chosen people, holy and dearly loved, clothe yourselves with compassion, kindness, humility, gentleness and patience."
We do not live in that old life any longer. The world will try to say that this is who we are; however, we know that is only how we used to be. I also appreciate Paul tells us to take off the old self. There is no going back; this is not a costume for us to wear when convenient or practical. The new creation is who we are to be all of the time. It is also appropriate to note that this is putting on and clothing ourselves with our new life. It is not standing adjacent to it or simply keeping it close by. We are made new.
Another passage reflecting this thought comes in Ephesians 6. Again, Paul denotes the actual situation engaging all Christians. It is not a fictitious diversion meant to distract us from our everyday lives.
Ephesians 6:12-18
"For we do not wrestle against flesh and blood, but against the rulers, against the authorities, against the cosmic powers over this present darkness, against the spiritual forces of evil in the heavenly places. 13 Therefore put on the whole armor of God, that you may be able to withstand in the evil day, and having done all, to stand firm. 14 Stand therefore, having fastened on the belt of truth, and having put on the breastplate of righteousness, 15 and, as shoes for your feet, having put on the readiness given by the gospel of peace. 16 In all circumstances take up the shield of faith, with which you can extinguish all the flaming darts of the evil one; 17 and take the helmet of salvation, and the sword of the Spirit, which is the word of God, 18 praying at all times in the Spirit, with all prayer and supplication. To that end, keep alert with all perseverance, making supplication for all the saints."
The items listed are battlefield implements; they are only helpful if we put them on. We cannot stack it up in a corner and imagine it will protect us or be of much use in our bedroom. We are to put it on and clothe ourselves with them. How many Christians think it is too cumbersome to wear? How many people believe it is unnecessary to put on? Nothing is wearisome about truth, righteousness, preparedness, faith, the Word of God, or our salvation. These are our daily accouterments. These are the daily reminders of our situation and our portion in this world.
It is tempting to play a Christ-follower. To think we can take on and off the very things that benefit our lives. It is convenient to want to remove it when we feel the situation calls for it. However, this is not a costume. We have given up the old self. Instead, we clothe ourselves with the new creation. Being a Christian is not "dress-up"; it is our true, authentic self.
---