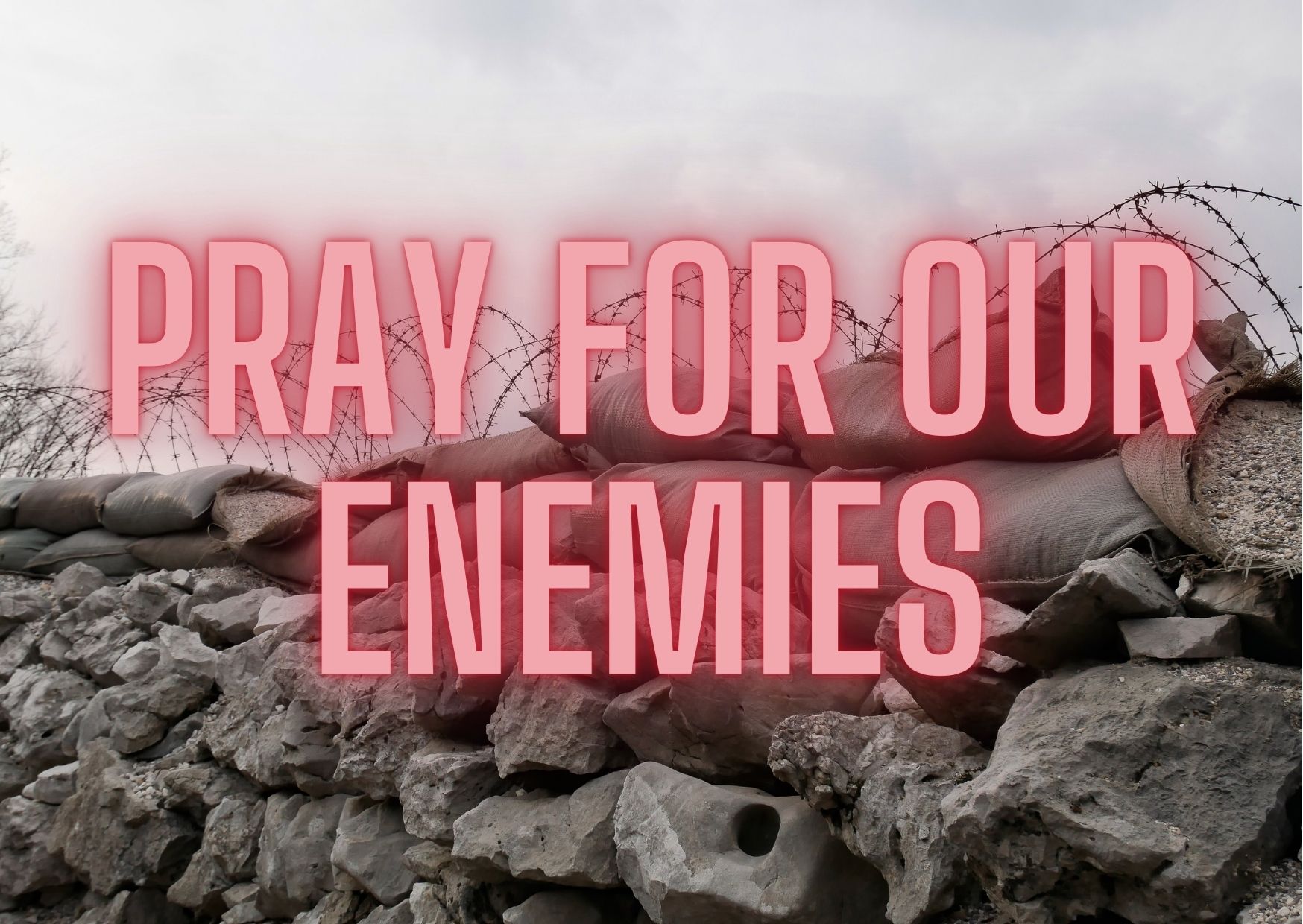 Blog 2.28.2022
Pray For Your Enemies
Birds of a feather… we all like to gather in groups that are similar to us. It provides us comfort and reduces the chance of possible conflict. We typically do this without recognizing that we do it; we find people in similar life stages, hobbies, or even just people that look like us. Studies have shown that it is a subconscious process, and most school-aged children do it instinctively. We find people that we have things in common with, and we make them "our people." We create these imaginary lines of in-groups versus out-groups and create an "us versus them" mentality with every social interaction.
Along these lines, war is unequaled in its polarization; it can emphasize the viciousness and heroism of humans. Those distinctions lay mainly on the viewpoint of who you align with within the conflict. From any given vantage point, someone can be the hero or the villain; often, those terms are simultaneously accurate. Count yourself blessed if you have never had to wonder if you are the hero or the villain of the story. The distinction of "friend" or "foe" depends solely on which uniform you put on that morning. We all like to imagine that we are the good guys, and everyone else is the evil, vile opposition. We announce our attributes and demonize the opponent. In this process, we often dehumanize the enemy because how could someone be so evil that they could fight against the side I support. It brings this realization to the forefront of my mind that regardless of the side you stand on: Every person has the capacity for great good or great evil; and when you realize that, you realize that no one is truly good ("Jesus replied. "There is only One who is good"- Matthew 19:17)
One example from history highlights this concept well for me. During the Great War (WWI), only five months into that struggle, an event surpassed comprehension. Historians called it the Christmas Truce, and it occurred on Christmas day 1914. The forces gathered there participated in an informal cease-fire throughout the Western Front. Both sides fixed in horrific trench warfare just the day prior, put down their weapons of battle, and engaged in holiday celebrations and even gift-giving. Another remarkable event is that British and German soldiers participated in singing Christmas carols together during this cease-fire! One German office put it this way, "How marvelously wonderful, yet how strange it was. The English officers felt the same way about it. Thus Christmas, the celebration of Love, managed to bring mortal enemies together as friends for a time" (German Lieutenant Kurt Zehmisch). During this terrible time in history, people gathered together to praise the birth of Jesus, the same Savior that we worship every day.
Why do I share this story? Because we like to segregate and separate into groups. We want to imagine that we are better than those around us, especially those who stand opposed to us. That we are the heroes and they are the villains. That somehow, we have some quality that elevates us above everyone else. The reality is that no one is good; only God is good. The truth is we are all humans with the capacity for both good and evil. This is why the Gospel matters so much.
Romans 5:8-11
"But God demonstrates his own love for us in this: While we were still sinners, Christ died for us. 9 Since we have now been justified by his blood, how much more shall we be saved from God's wrath through him! 10 For if, while we were God's enemies, we were reconciled to him through the death of his Son, how much more, having been reconciled, shall we be saved through his life! 11 Not only is this so, but we also boast in God through our Lord Jesus Christ, through whom we have now received reconciliation."
We should keep in mind that, at one point, we were all enemies of God. Vile, wretched, enemies of the only One who is good. Perhaps that is why scripture instructs us to be prayerful and kind to our enemies.
Matthew 5:44- "But I tell you, love your enemies and pray for those who persecute you."
Luke 6:27-28- "But to you who are listening I say: Love your enemies, do good to those who hate you, 28 bless those who curse you, pray for those who mistreat you."
Romans 12:20- On the contrary: "If your enemy is hungry, feed him; if he is thirsty, give him something to drink."
We are not that different from our enemies; we are more alike than you might care to think. Whether we want to recognize it or not, we are all created in God's image. We were all placed at the pinnacle of God's creation, and… we are all sinners. When we were enemies of God, He was willing to love us and die for us. Not because we were the same or even morally aligned, but because we needed it. God loved and died for us because we were enemies, not because we were friends.
Many people are declaring that we should "Pray for Ukraine," and rightfully so, they need a physical deliverance from certain harm; and God has the power to effect real change in this terrible situation. But we also pray for the "enemy" because only God can change a heart. Ezekiel 36:26 I will give you a new heart and put a new spirit in you; I will remove from you your heart of stone and give you a heart of flesh. We pray for the worst in humanity because we are not different from them. We pray for our enemies because only God can change their hearts, and that is where actual change can happen. We pray for peace because that preserves all image-bearers of God. And we love our enemies because God loved and died for us while we were still opposed to Him.
Romans 5:8
"But God demonstrates his own love for us in this: While we were still sinners, Christ died for us."
---