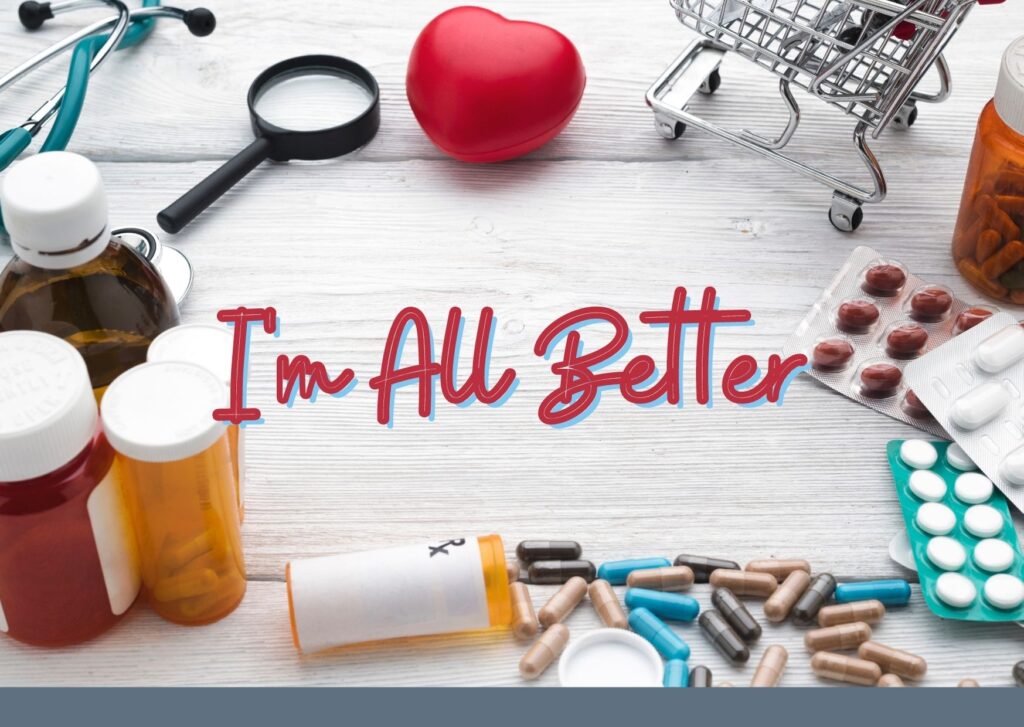 I'm All Better.
I am not a perfect parent. This realization has always existed; I think most people appreciate how imperfect and unqualified they are when their child enters the world. I felt inadequate almost immediately, and I have carried this thought daily, although there are moments when I feel up for the task of childrearing. But mainly, I fluctuate between inept and overwhelmed. For a while, I felt up to the challenge of being a parent; then, we moved into an apartment. It is not the size of the apartment that makes being a parent difficult it is a concern for our neighbor's happiness that worries me most. Having our three boys run and roughhouse on the third floor makes this conscientious dad squirm. Frustrations mount and tensions flare, a cranky dad emerges, and the cacophony of noise dies down for a moment.
About a week ago, the noise was far less boisterous; our boys had a slight head cold, runny noses, and congestion mellowed them out. Two elements make sick kids difficult. No one likes being sick, for starters, and little people struggle to express how they feel, and they wouldn't understand it anyway. Secondly, as a parent, there is only so much a person can do to help them feel better… and the continual blowing of the nose only goes so far.
It is difficult to relate to God. How can we even begin to understand the character and nature of a being so far above us? I continually struggle with His glory. Either I fail to think of His divine attributes or underestimate His abilities, and most of the time, I entirely undervalue His qualities. Through inspiration, the biblical authors try to demonstrate who God is and what would make Him worthy of praise. One such passage is found in Psalm 103. In this poem, David wants us to grasp the reality of God. As you read this, I want you to interpret the rest of this psalm with verse 13, "As a father has compassion on his children."
Psalm 103

1 Praise the LORD, my soul;
all my inmost being, praise his holy name.
2 Praise the LORD, my soul,
and forget not all his benefits—
3 who forgives all your sins
and heals all your diseases,
4 who redeems your life from the pit
and crowns you with love and compassion,
5 who satisfies your desires with good things
so that your youth is renewed like the eagle's.
6 The LORD works righteousness
and justice for all the oppressed.
7 He made known his ways to Moses,
his deeds to the people of Israel:
8 The LORD is compassionate and gracious,
slow to anger, abounding in love.
9 He will not always accuse,
nor will he harbor his anger forever;
10 he does not treat us as our sins deserve
or repay us according to our iniquities.
11 For as high as the heavens are above the earth,
so great is his love for those who fear him;
12 as far as the east is from the west,
so far has he removed our transgressions from us.
13 As a father has compassion on his children,
so the LORD has compassion on those who fear him;
14 for he knows how we are formed,
he remembers that we are dust.
15 The life of mortals is like grass,
they flourish like a flower of the field;
16 the wind blows over it and it is gone,
and its place remembers it no more.
17 But from everlasting to everlasting
the LORD's love is with those who fear him,
and his righteousness with their children's children —
18 with those who keep his covenant
and remember to obey his precepts.
19 The LORD has established his throne in heaven,
and his kingdom rules over all.
20 Praise the LORD, you his angels,
you mighty ones who do his bidding,
who obey his word.
21 Praise the LORD, all his heavenly hosts,
you his servants who do his will.
22 Praise the LORD, all his works
everywhere in his dominion.
Praise the LORD, my soul.
This psalm tugs at my heartstrings because I can visualize God having compassion on us, His ill and uncomfortable children. Knowing that we are like dust, and whither like grass, we are just far feebler than He is. We need Him like a child who needs a father, and we are drawn to the compassionate God that is slow to anger and abounding in love. We cry out to our God that heals us and removes our sickness. Like a two-year-old doesn't understand why they feel like crud, we humans do not fully understand what sin-sickness does to our lives. And here I see a God that has the compassion of a father, holding our hands and trying to help us feel better, attempting to give us the only medicine that can help. As an earthly dad, I can only do so much for my children's "colds," but God can heal fully and completely. When I stop and reflect on these qualities of God and know that His compassion is even greater than my own, I am humbled, and then I am exceedingly grateful for a God who I can call my Father. A Father that sees my infirmities and has healed me perfectly.