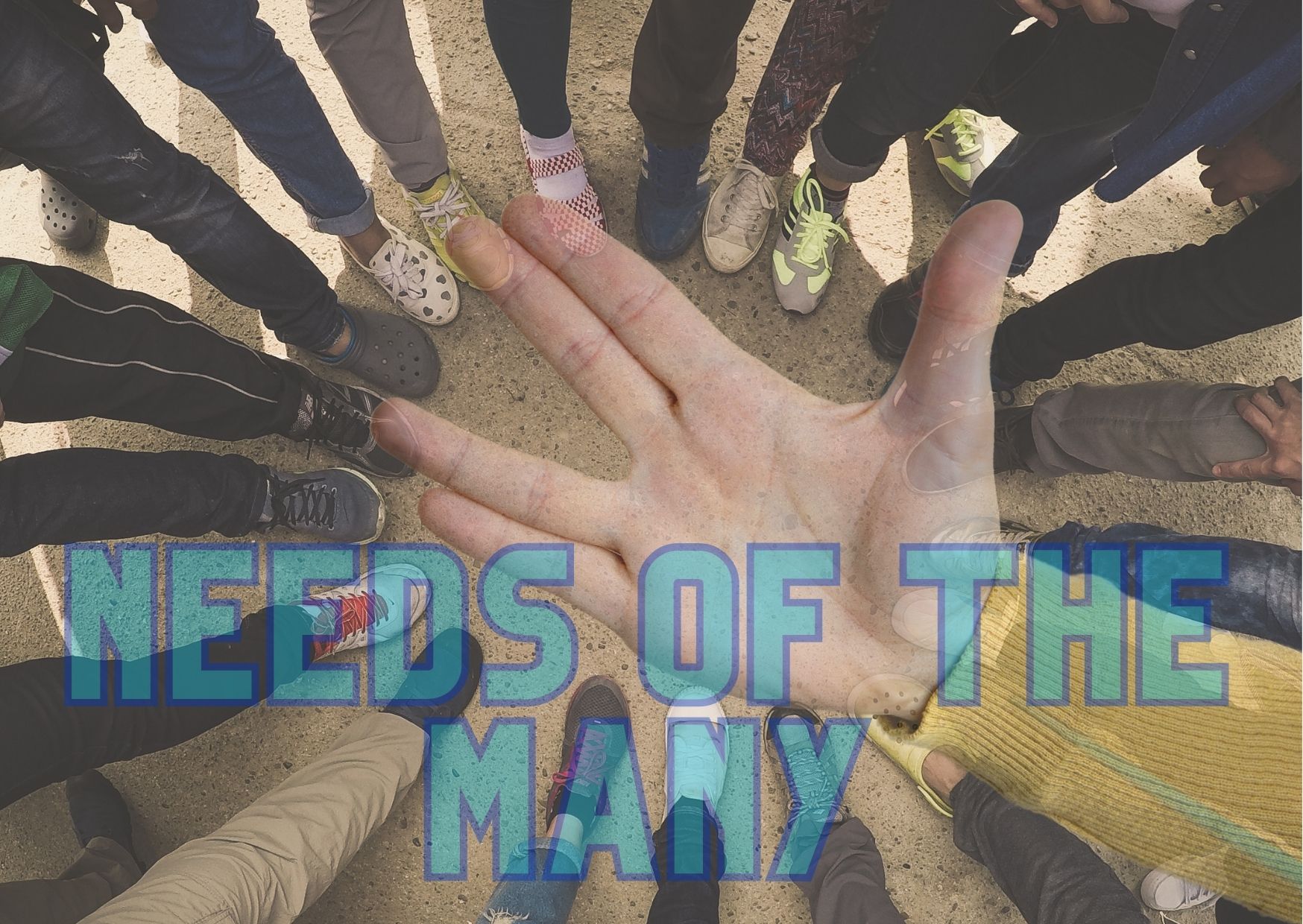 The modern Western culture that we live in is bizarre. In fact, throughout human history, it is an anomaly. In our culture, we tend to promote our individualized self above the rest of the group. Besides our own, most cultures tend to center around the entire group and not the individual. Even in futuristic outer space, Spock would say logic dictates that "The needs of the many outweigh the needs of the few (or the one)." This statement is difficult for us in an individualist culture to reconcile. We believe our pursuits, goals, and dreams our weight anyone else's goals, pursuits, or dreams.
As engrained as this is in our way of life, let me remind you that our beliefs are rooted in a near-eastern collectivist culture. It is a culture where ideas like hospitality and generosity are foundational paradigms everyone should pursue. Through the prophet Isaiah we are told of an individual that suffered so that many could be justified. One would sacrifice himself so that "the many" would benefit.
Isaiah 53:10-12
"But the LORD desired to crush Him, causing Him grief; If He renders Himself as a guilt offering, He will see His offspring, He will prolong His days, And the good pleasure of the LORD will prosper in His hand. 11 As a result of the anguish of His soul, He will see it and be satisfied; By His knowledge the Righteous One, My Servant, will justify the many, For He will bear their wrongdoings. 12 Therefore, I will allot Him a portion with the great, And He will divide the plunder with the strong, Because He poured out His life unto death, and was counted with wrongdoers; Yet He Himself bore the sin of many, and interceded for the wrongdoers."
In any context, the Suffering Servant is an example of selflessness and sacrifice. It is an ideal to rally around and pursue. Whether you are in a culture that prizes the group or the individual, the notion that someone would endure pain and grief for others is nothing short of extraordinary. The human condition is to survive, and to choose the opposite willingly is exceptional.
Sadly, we have become numb to this type of language. We are so accustomed to the sacrifice of Christ that we interpret him as the exception and not the rule. We often analyze this concept as this was Jesus' purpose; he died for me. Once again, this emphasizes "me" over "we" and frames our bias as one of an individualized culture. Because of this bias, our churches and fellowship have suffered. We perceive our gatherings as, "What will I gain from this experience?" "How will this church service build me up?" However, this is not the culture of God's people. The culture that the Bible promotes is that because Jesus willingly went to the cross, so should we. Look at this passage from Paul as he writes to the church in Rome, epitomizing the look and pursuit of the body of Christ.
Romans 12:4-18
"For just as we have many parts in one body and all the body's parts do not have the same function, 5 so we, who are many, are one body in Christ, and individually parts of one another. 6 However, since we have gifts that differ according to the grace given to us, each of us is to use them properly: if prophecy, in proportion to one's faith; 7 if service, in the act of serving; or the one who teaches, in the act of teaching; 8 or the one who exhorts, in the work of exhortation; the one who gives, with generosity; the one who is in leadership, with diligence; the one who shows mercy, with cheerfulness. 9 Love must be free of hypocrisy. Detest what is evil; cling to what is good. 10 Be devoted to one another in brotherly love; give preference to one another in honor, 11 not lagging behind in diligence, fervent in spirit, serving the Lord; 12 rejoicing in hope, persevering in tribulation, devoted to prayer, 13 contributing to the needs of the saints, practicing hospitality. 14 Bless those who persecute you; bless and do not curse. 15 Rejoice with those who rejoice, and weep with those who weep. 16 Be of the same mind toward one another; do not be haughty in mind, but associate with the lowly. Do not be wise in your own estimation. 17 Never repay evil for evil to anyone. Respect what is right in the sight of all people. 18 If possible, so far as it depends on you, be at peace with all people."
Read this passage several times and use any translation or version that suits you. Because this is what the body of Christ looks like. The depiction in Romans 12 looks like a group of people pursuing the church's betterment. It looks like self-sacrifice. It looks like putting the needs of the "one" below the needs of "the many."
Practically speaking, the mentality would be that as we live our lives, we continually think about who we can serve today. When we gather, our thought process should be, "Who can I encourage or edify today?" "How can I sacrifice for others this morning?" To truly become like Jesus, we must be willing to give up our own individualistic desires so that we can benefit the collective whole. A mentality of service echoes the words of Jesus,
"Greater love has no one than this, that a person will lay down his life for his friends" (John 15:13).
On a Sunday morning, so many people sneak in and out, and I wonder how they can sacrifice for others when they don't even talk to anyone. How are they living out Romans 12 when they barely know anyone else?
I know it is counter-cultural to live in harmony with a group; however, that is our calling. If you are not living for others, you are living for yourself, and you are concerned only for the needs of the one and not the needs of the many.