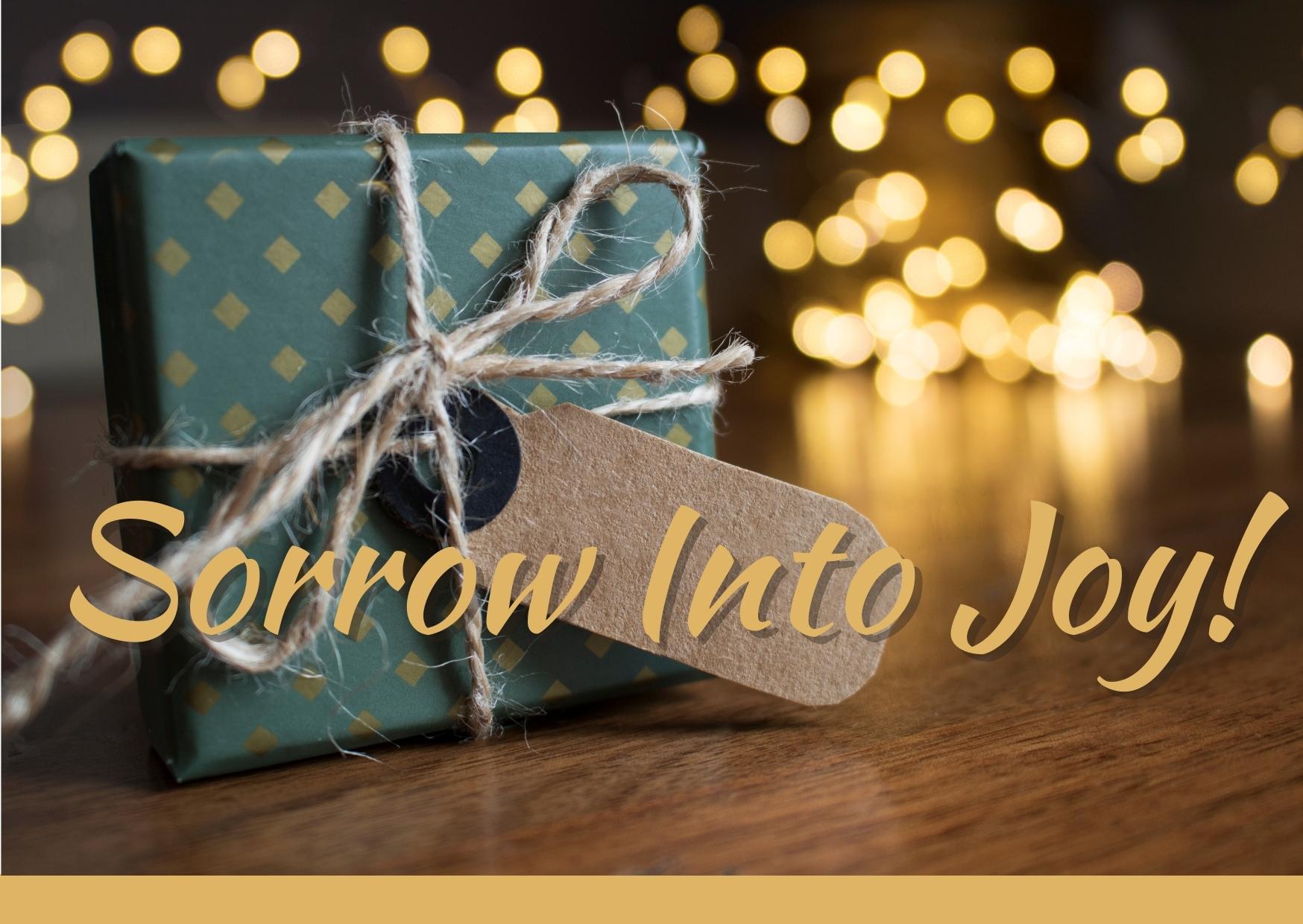 Blog 12/27/2021
Sorrow into Joy!
I feel as though I have done a lot in my life so far. Yet out of all of the things I have seen and have been a part of, nothing gives me joy and happiness like being a parent. One aspect I love about being a parent is experiencing the world through my children's eyes. The month leading up to Christmas is truly a wonderful experience and puts a lot into perspective. My kids love looking at all of the decorations in stores or on the streets, they enjoy baking and icing cookies, and they love the thought of receiving presents. Even though Theo has watched the Grinch movie countless times, he knows Christmas is not only about presents… to him; it is still about presents. We all love a good gift, and to receive something as an unwarranted surprise is every person's dream. I recognize that the best present that I have is the gift of my children.
As I was studying for the lesson on obedience being the product of faith this last week, I looked at that passage in Hebrews 11 concerning Abraham's faith. And there was a thought that struck me, and one I would like to share with you.
Hebrews 11:17-19 ESV –
"By faith Abraham, when he was tested, offered up Isaac, and he who had received the promises was in the act of offering up his only son, 18 of whom it was said, "Through Isaac shall your offspring be named." 19 He considered that God was able even to raise him from the dead, from which, figuratively speaking, he did receive him back."
I consider the steps of Abraham and Isaac as they traverse the hills of Moriah, leading to the fateful spot where God will test Abraham's faith. As we read the account in Genesis 22, we are confronted with how difficult this would be for a parent to experience. Each step would be met with sorrow and resolve. At some point, Abraham's faithful determination would presume that this was the last journey that he and his son would ever take, mentally handing him over to his future fate. I cannot imagine the pain of losing a child, and my heart aches for every parent that has ever had to endure that pain. The heartache of Abraham during this journey would have been dreadful and excruciating.
Yet, with his knife in hand, what extreme joy would have consumed his heart when he heard the angel of the Lord exclaim, "Do not lay your hand on the boy or do anything to him" (Genesis 22:12)—presenting us with the reality described in Hebrews 11:19. Although in Abraham's resolve, he has already committed Isaac to death, halting his hand, he receives his son back from doom. In a very real sense, this is the second time God gave Abraham the gift of his son, Isaac. The first is his supernatural birth to man and wife in their old age; the second is when he received him back from death.
We don't often think of the return trip. On the way to the mountains of Moriah, sorrow and distress filled each step, and yet, how much joy would have been expressed because of God's deliverance of Isaac? I can only imagine the singing and rejoicing as father and son made their way home. No longer would Abraham have to inform Sarah of Isaac's sacrifice, but now he can shout out the goodness of God and His providence! Laughter, thankfulness, and appreciation would have filled Abraham's heart, and unending praise would have rolled effortlessly off of his lips. I think of David's song in Psalm 30.
Psalm 30:11-12 ESV –
"You have turned for me my mourning into dancing; you have loosed my sackcloth and clothed me -with gladness, 12 that my glory may sing your praise and not be silent.
O LORD my God, I will give thanks to you forever!"
This is the attitude that we all should have as we reflect on the goodness of God and His indescribable gift (2 Corinthians 9:15). What should have been sorrow and sadness for all humanity, we now sing and rejoice like a parent receiving back their children because of the sacrifice of God's Only Son and his resurrection from the dead. Abraham received an unwarranted gift, and what a surprise that would have been; to regain Isaac from certain death. We, too, have received an unwarranted gift, life everlasting through the offering of the son. To which we can shout and sing and rejoice for the goodness of God.