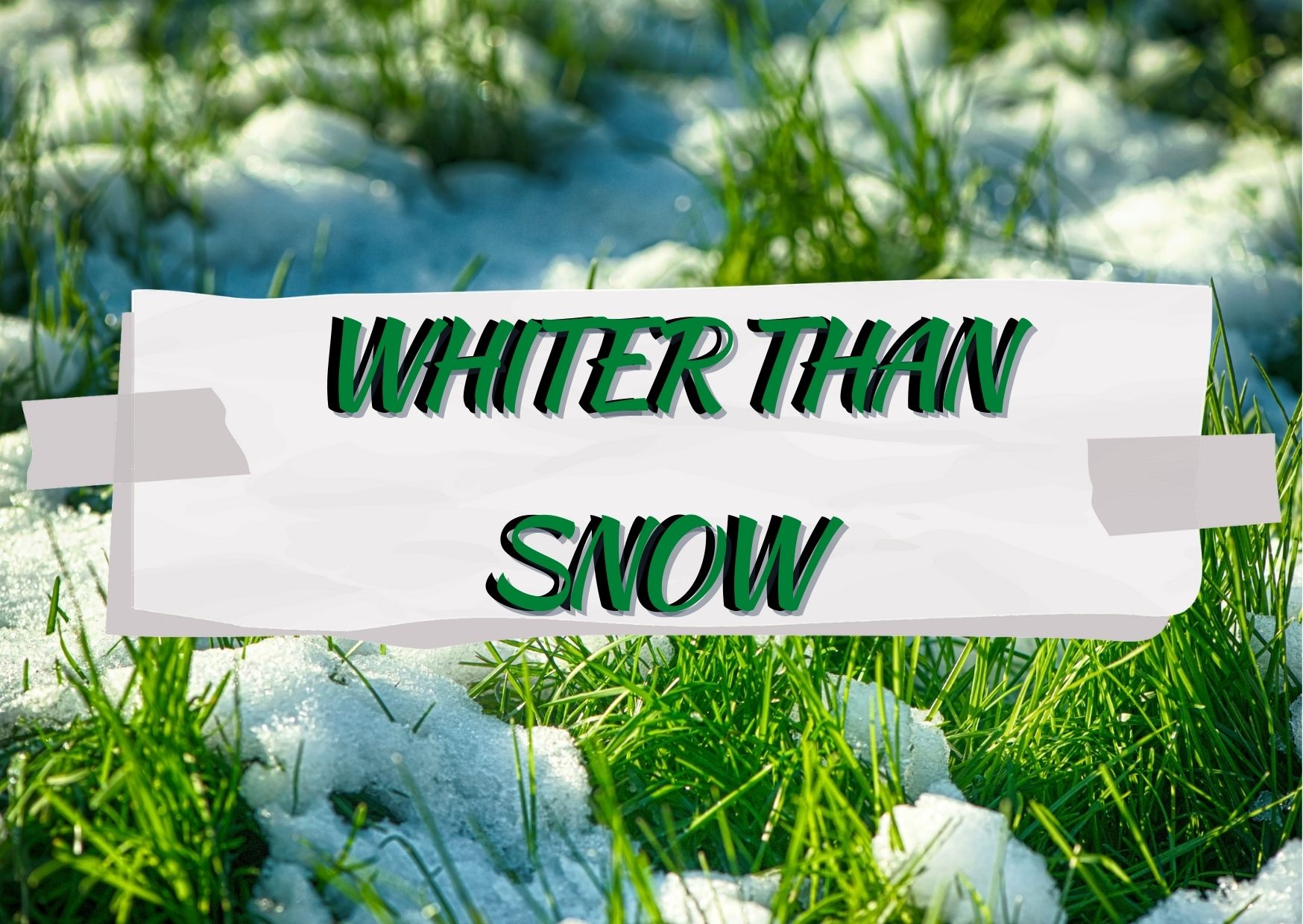 Blog 4.11.2022
Whiter than Snow
Springtime is always a great time for renewal. The passing from one season to another and the freshness of Spring and the newness it can bring. We incorporate this theme into our lives with elements like "spring cleaning" and taking the old cobwebs accumulated from a time of inactivity. Then, we begin to anticipate the warmer weather and its opportunities. We love the promise of Spring, but Spring is not summer… Spring can turn back to winter in an instant. It can be 75 degrees one day and 35 the next. So, as we think about renewal and change for warmer weather, we are guarded against the realities of colder mornings and snow in April. That is why when we woke up to snow on Monday, April 11, 2022, it was shocking but not completely unexpected. Because we know that Spring is not summer, and real change hasn't happened yet.
I think we can attempt to live the same ways in our spiritual lives. And, frequently go from seasons of inactivity or even in detrimental ways and think we can simply dust off the cobwebs and get back to a healthy spiritual life. Or even worse, we just cover up our bad habits and negative emotions with other junk, not willing to make any real change in our lives. This is why David's poem recorded in Psalm 51 is so insightful and relevant.
Psalm 51:1-19 "For the director of music. A psalm of David. When the prophet Nathan came to him after David had committed adultery with Bathsheba.
Have mercy on me, O God, according to your unfailing love; according to your great compassion blot out my transgressions.
2 Wash away all my iniquity and cleanse me from my sin.
3 For I know my transgressions, and my sin is always before me.
4 Against you, you only, have I sinned and done what is evil in your sight; so you are right in your verdict and justified when you judge.
5 Surely I was sinful at birth, sinful from the time my mother conceived me.
6 Yet you desired faithfulness even in the womb; you taught me wisdom in that secret place.
7 Cleanse me with hyssop, and I will be clean; wash me, and I will be whiter than snow.
8 Let me hear joy and gladness; let the bones you have crushed rejoice.
9 Hide your face from my sins and blot out all my iniquity.
10 Create in me a pure heart, O God, and renew a steadfast spirit within me.
11 Do not cast me from your presence or take your Holy Spirit from me.
12 Restore to me the joy of your salvation and grant me a willing spirit, to sustain me.
13 Then I will teach transgressors your ways, so that sinners will turn back to you.
14 Deliver me from the guilt of bloodshed, O God, you who are God my Savior, and my tongue will sing of your righteousness.
15 Open my lips, Lord, and my mouth will declare your praise.
16 You do not delight in sacrifice, or I would bring it; you do not take pleasure in burnt offerings.
17 My sacrifice, O God, is a broken spirit; a broken and contrite heart you, God, will not despise.
18 May it please you to prosper Zion, to build up the walls of Jerusalem.
19 Then you will delight in the sacrifices of the righteous, in burnt offerings offered whole; then bulls will be offered on your altar."
David knows that his sins and his iniquities run deep. They are not merely surface-level problems. In dramatic hyperbole, he states that they have been there from birth. David knows that he is utterly sinful; he recognizes that the ordeal with Bathsheba was rooted deep within his flaws of being a human. He does not make excuses and blame the situation; he places the blame and responsibility for his wrongdoing squarely on his shoulders.
However, what really strikes me is what we read in verse seven, David wants to be purified and made whiter than snow. Not simply covered with snow or made to appear holy and righteous, but to actually be righteous. This act of being made whiter than snow is the work of God in the life of David, not in David's ability and actions. In this psalm, God is the one that is restoring, cleaning, creating a new heart, and renewing real change in David's life. This isn't just a superficial dusting but effective and real change.
Then when David is restored and renewed, he will show the goodness of God. He will teach others about the mercy and grace found in God, making him new. This brings up the thought that telling others about the goodness of God is impossible if it is dependent on our abilities or my original sinlessness. It understands that we are all sinners and that God has renewed each of us. God didn't just cover up our sins but completely removed them, paying for them with the blood of His Son. We don't just have a dusting of springtime snow, but we have been made white like snow.
What we see displayed in this psalm is not a surface-level change. It is not a quickly melting shallow faith. Still, it recognizes the sinfulness that we all have and rejoices not in our abilities but in God's goodness and grace. Now he is whiter than snow.